BGMS has a fun, educational cooking class for our summer school students. They have learned how to make a variety of tasty foods.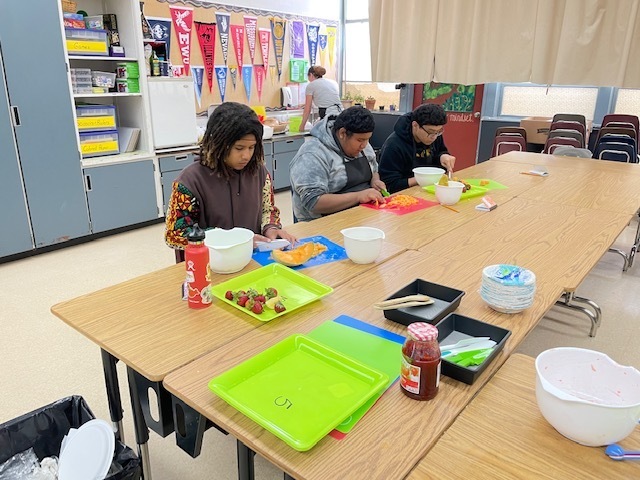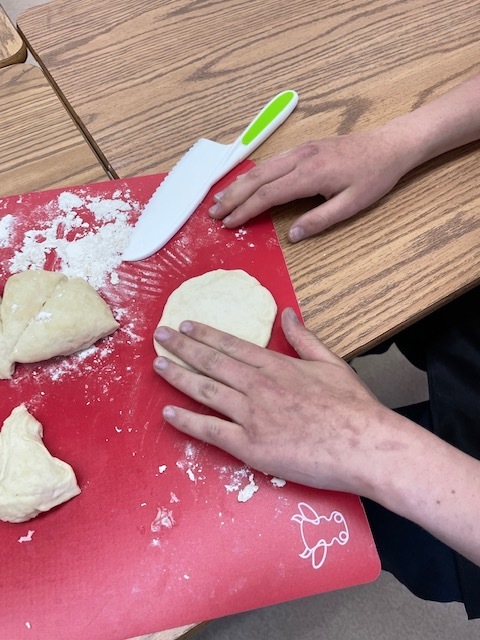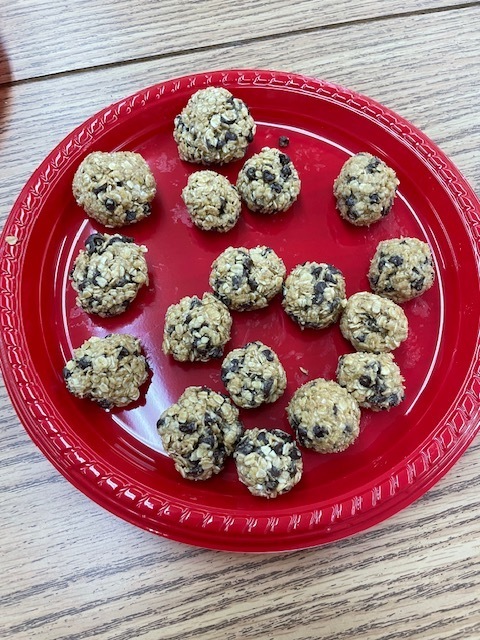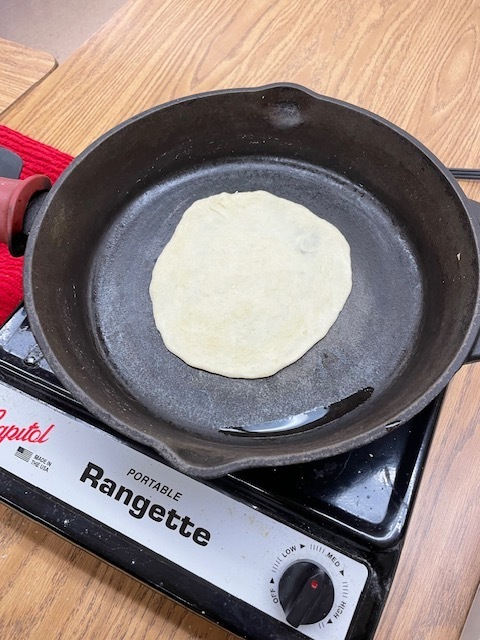 Summer school theater class taught by Ms. Sanbeck.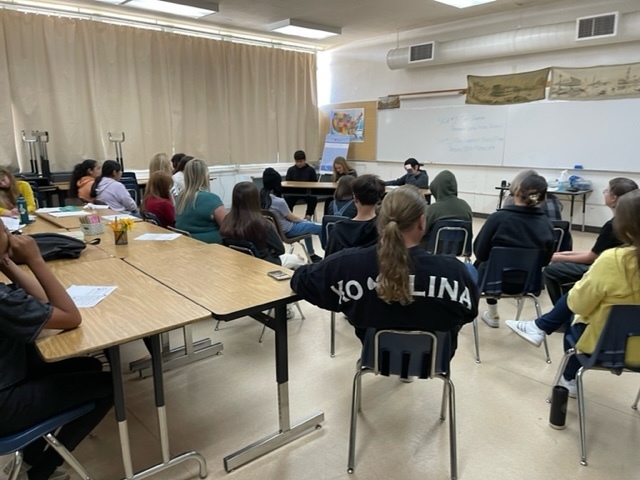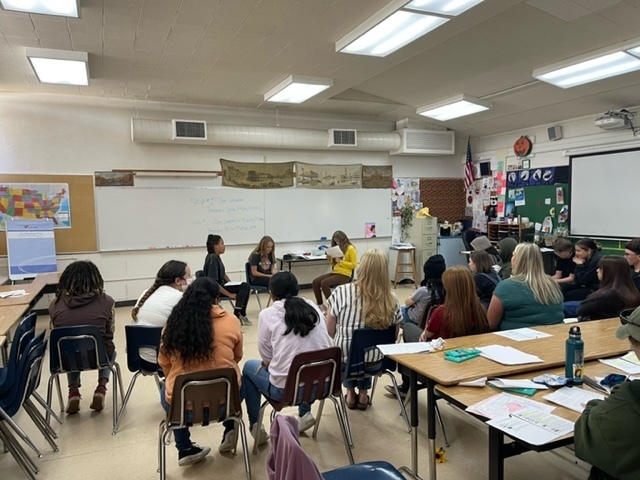 Some of the beautiful art work made by our very talented summer school students.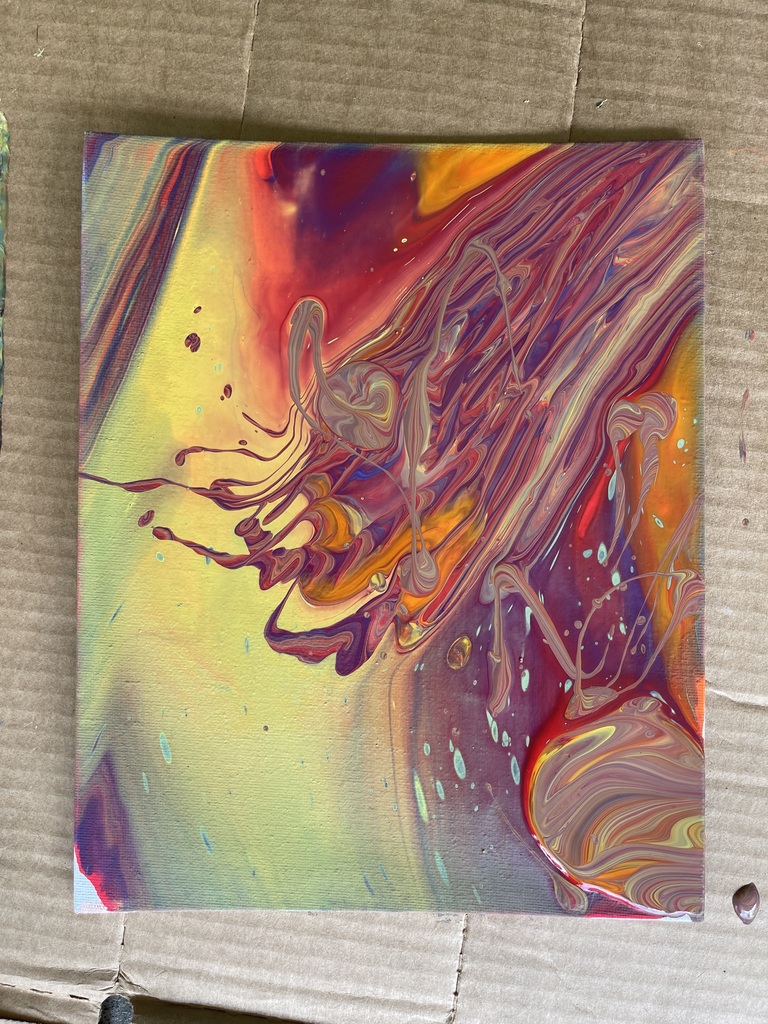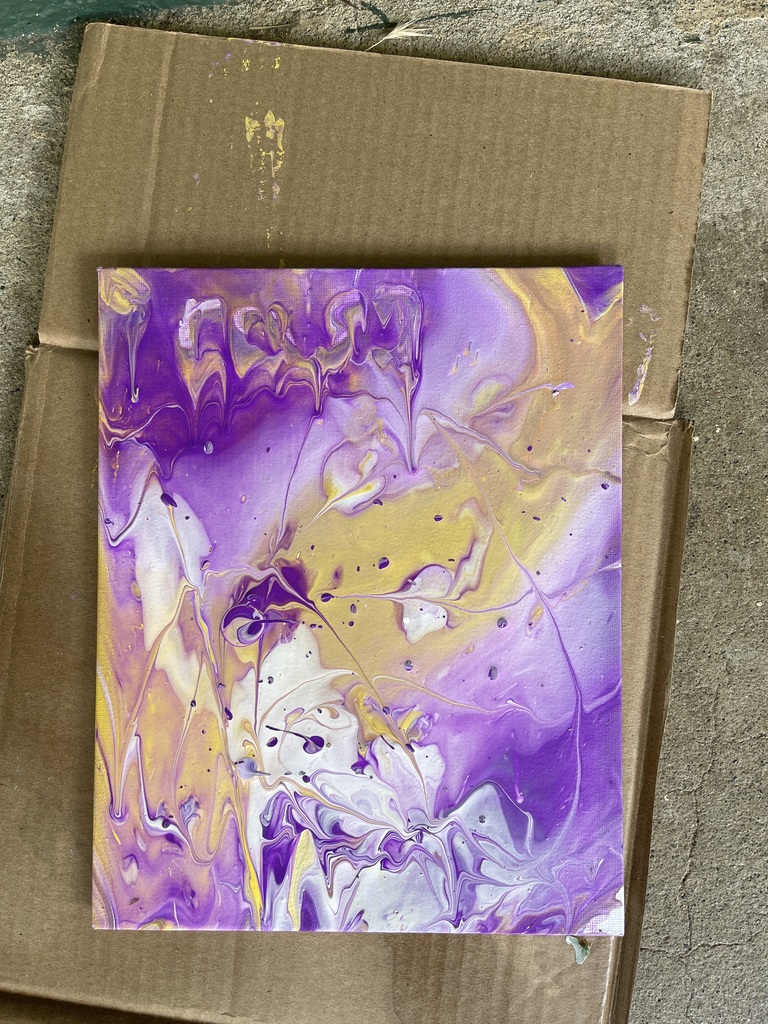 The Summer Volleyball Open Gym will be beginning this week on Thursday, June 23rd at WHS. Thursdays will be 4:00-5:30 pm, and Saturdays beginning June 25th will be from 11:00am-12:30 pm. The above times are for beginning and intermediate volleyball level.
Attention 8th grade parents & guardians, if you have yet to pick up your child's graduation promotion certificate they are in the office and can be picked up Monday through Friday this week, and next week from 7:30-4:00.
Beautiful art work made by our summer school students.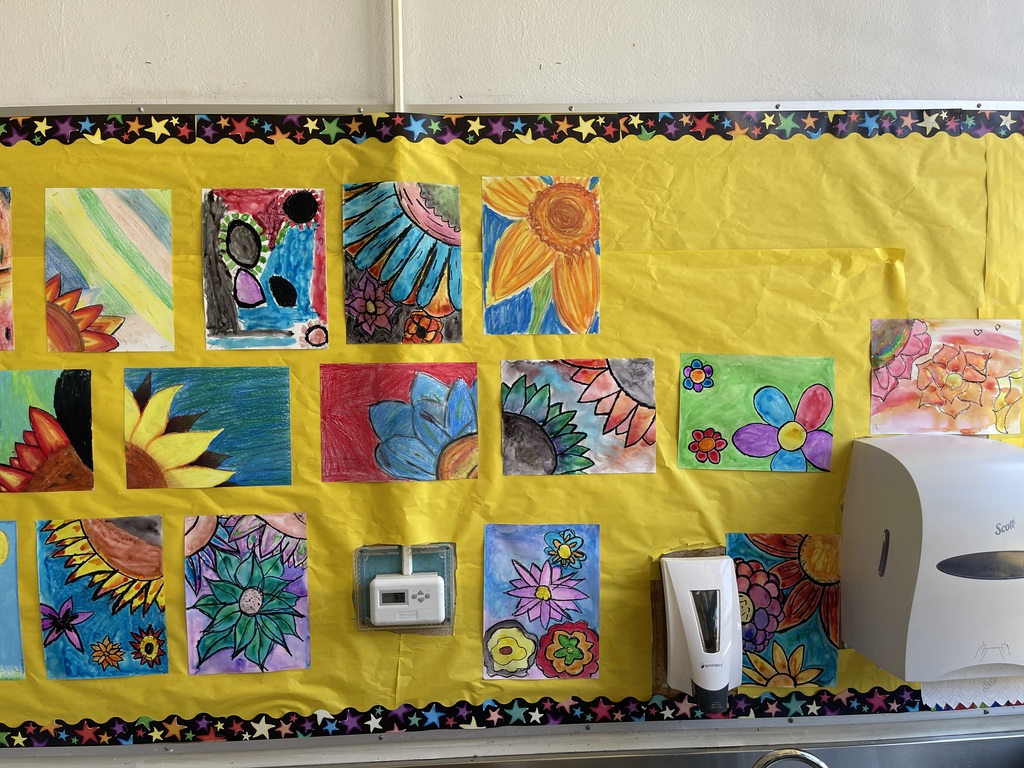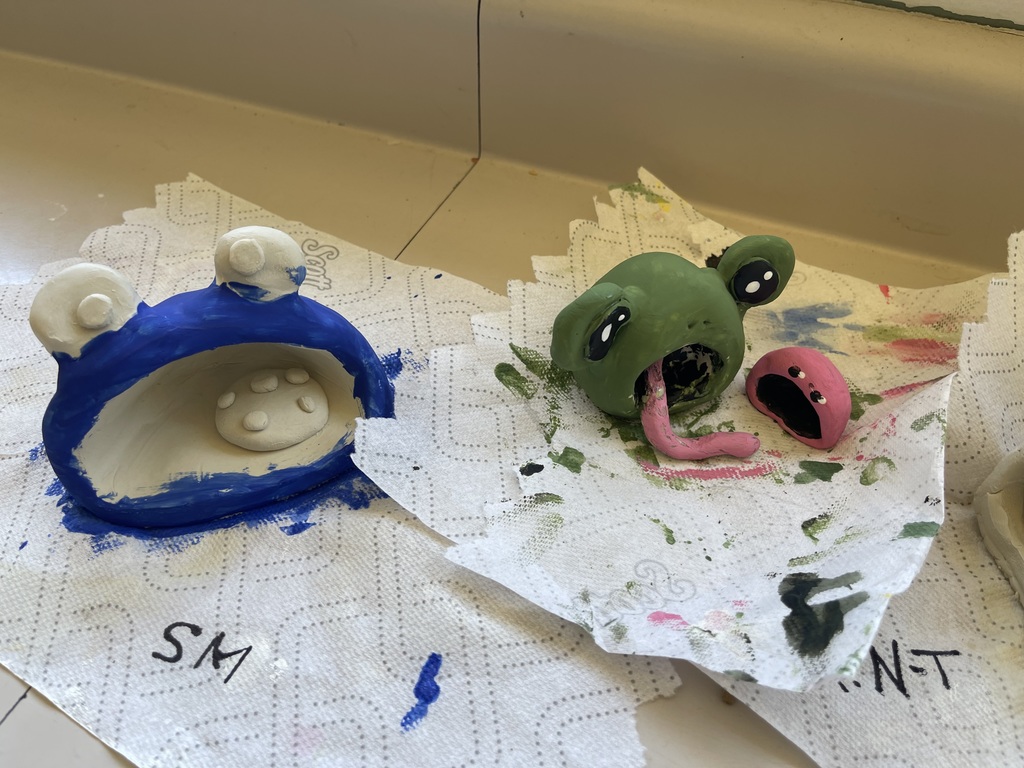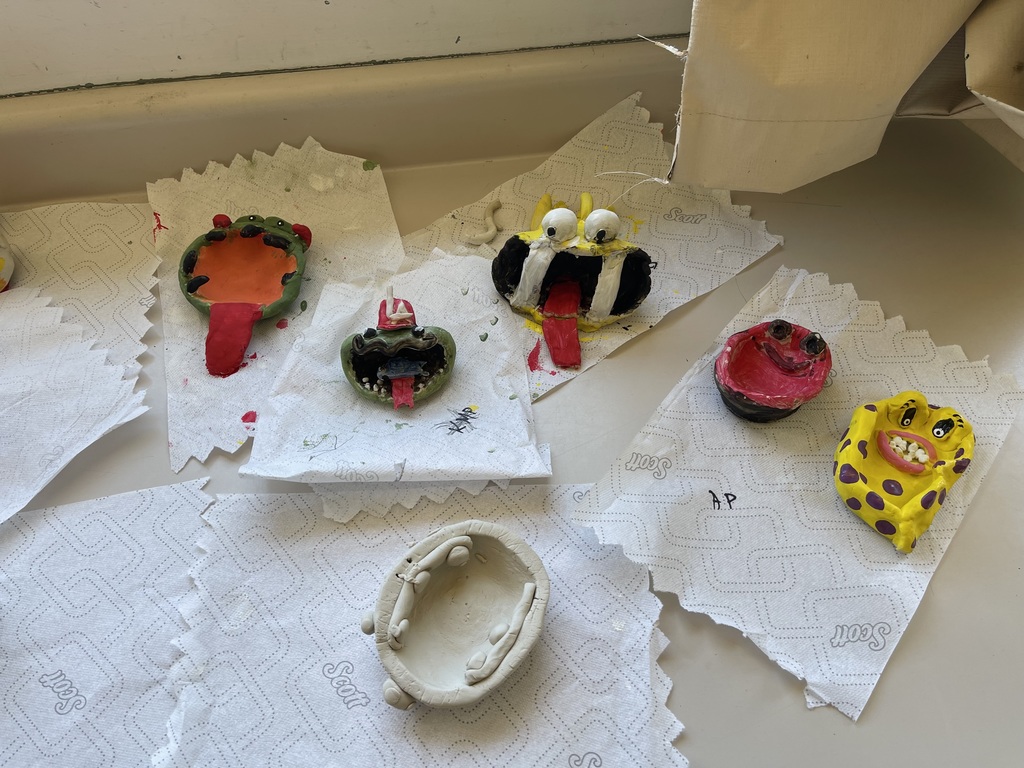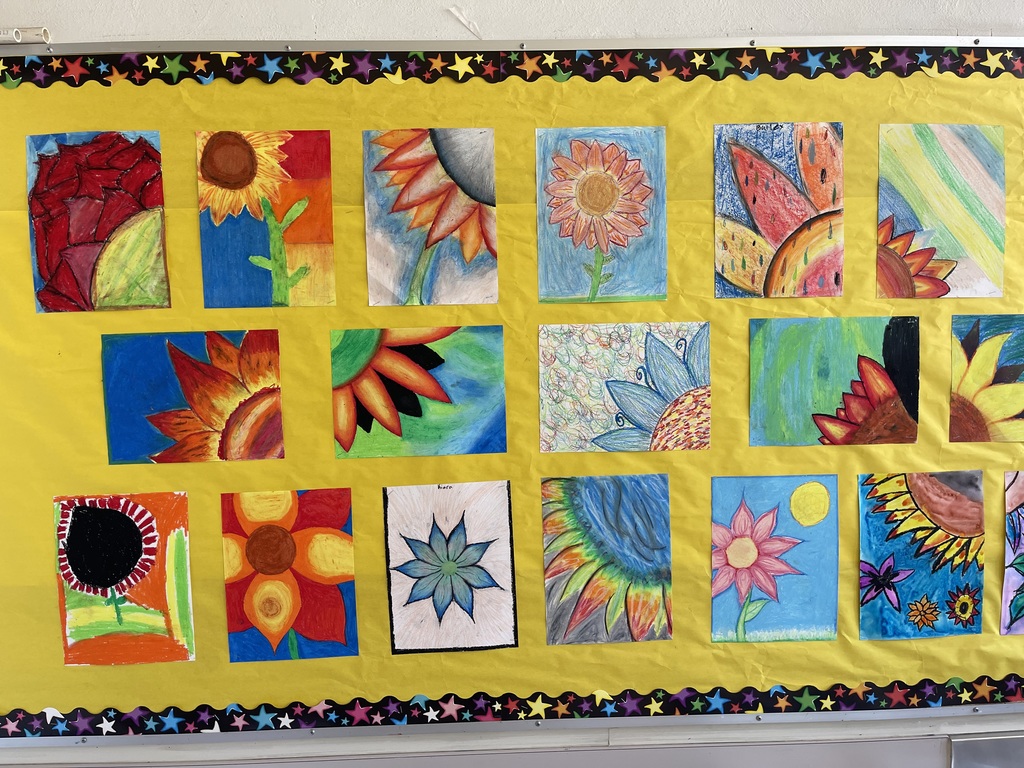 BGMS has covid testing open to the community from 8 a.m. to 12 p.m. Tuesday through Friday in room 19. Please use Locust street to enter. You can go directly to room 19.
Hello parents and guardians, The 8th grade promotion certificates have arrived and are available to pick up in the front office from 7:30 to 4:00 Monday through Friday.

Hello BGMS Parents, Guardians, and Caregivers, We are on our last four days of this school year. Monday is the end of trimester 3. Grades will be final in Aeries on Wednesday morning. Eighth grade promotion practice will be on Wednesday from 12:00 to 2:00. The Ceremony begins at 6:00. All promoting eighth graders should be at the WHS field at 5:30pm. Thursday is the last attendance day, and it is a minimum day for students. Summer Program at BGMS begins Monday, June, 13th at 8:00 am and 12:00 pm. The return road to students returning to in person instruction, and regular school hours, has been challenging, but we made it to the end of the year. BGMS would like to thank all of the parents, guardians, and caregivers who have been with us this year. We appreciate your input, our assistance, and mostly your advocacy for your children. I will not be with you at BGMS next year, but I am sure that it will be an amazing year of learning. I know that I have grown tremendously as a person due to my service to the Baechtel Grove community, and for this I thank you. I will, however, be here the next three weeks for this year's Summer Program. Ms. Munguia Hola padres, tutores y cuidadores de BGMS, Estamos en nuestros últimos cuatro días de este año escolar. El lunes es el final del tercer trimestre. Las calificaciones serán finales en Aeries el miércoles por la mañana. La práctica de promoción de octavo grado será el miércoles de 12:00 a 2:00. La Ceremonia comienza a las 6:00. Todos los estudiantes de octavo grado en promoción deben estar en el campo de WHS a las 5:30 p. m. El jueves es el último día de asistencia y es un día mínimo para los estudiantes. El programa de verano en BGMS comienza el lunes 13 de junio a las 8:00 am y 12:00 pm. El camino de regreso para que los estudiantes regresen a la instrucción en persona y al horario escolar regular ha sido un desafío, pero lo logramos hasta el final del año. BGMS quisiera agradecer a todos los padres, tutores y cuidadores que han estado con nosotros este año. Agradecemos su aporte, nuestra asistencia y, sobre todo, su defensa de sus hijos. No estaré con ustedes en BGMS el próximo año, pero estoy segura de que será un año increíble de aprendizaje. Sé que he crecido enormemente como persona gracias a mi servicio a la comunidad de Baechtel Grove, y por eso les agradezco. Si, estaré aquí las próximas tres semanas para el Programa de Verano de este año. Sra. Munguía

Hello BGMS Parents, Guardians, and Caregivers, Thank you to all of our AVID families that attended the AVID End of the Year Celebration last week. It is this partnership with families in the AVID at BGMS that has proven to motivate students to attain their goal for university study, after high school. We are in the last two weeks of the 2021-2022 school year. We still expect everyone to attend school daily. BGMS Student Council is sponsoring a Spirit Week this week, with dress up days, an attendance reward, and a dance on Friday from 3:30 to 5:00. Tickets for the dance are pre-sold during lunches this week. All the grade level end of the year filed trips will take place this week, for eligible students. 8th and 7th grade field trips are on Thursday, and the 6th grade field trip is on Friday. All permission slips must be turned in before the deadline, as stated on the permission slips given to students. As the weather gets warmer we also want to remind parents to help us make sure that students are keeping to the dress code at BGMS. Mainly short shorts, bare midriffs, and muscle shirts are what we are seeing out of dress code. Ms. Munguia Hola padres, tutores y cuidadores de BGMS, Gracias a todas nuestras familias AVID que asistieron a la celebración de fin de año de AVID la semana pasada. Es esta asociación con las familias en AVID en BGMS lo que ha demostrado motivar a los estudiantes a alcanzar su meta de estudios universitarios, después de la escuela secundaria. Estamos en las últimas dos semanas del año escolar 2021-2022. Todavía esperamos que todos asistan a la escuela todos los días. El Consejo Estudiantil de BGMS está patrocinando una Semana de Espíritu esta semana, con días de disfraces, una recompensa por asistencia y un baile el viernes de 3:30 a 5:00. Los boletos para el baile se venden por adelantado durante los almuerzos de esta semana. Todos los viajes de fin de año de nivel de grado se llevarán a cabo esta semana, para estudiantes elegibles. Las excursiones de los grados 8 y 7 son los jueves, y las excursiones de los grados 6 son los viernes. Todos los formularios de permiso deben entregarse antes de la fecha límite, como se indica en los formularios de permiso que se entregan a los estudiantes. A medida que el clima se vuelve más cálido, también queremos recordarles a los padres que nos ayuden a asegurarnos de que los estudiantes cumplan con el código de vestimenta en BGMS. Principalmente, lo que estamos viendo fuera del código de vestimenta son los shorts muy cortos, el abdomen descubierto y las camisetas sin mangas de musculos. Sra. Munguía

Padres y tutores de Baechtel Grove, Nos gustaría recordar a nuestra comunidad escolar que tenemos un código de vestimenta en nuestra escuela. Necesitamos su ayuda como padres y tutores para ayudar a nuestros estudiantes a seguir el código de vestimenta en estos últimos días del año escolar. Aquí está nuestro código de vestimenta como referencia: Los estudiantes deben tener cuidado de que la ropa esté ordenada, limpia y apropiada para la asistencia y las actividades escolares. A los estudiantes con ropa inapropiada se les dará la oportunidad de cambiarse o llamar a casa para ropa nueva. En la tercera ofensa pueden ser referidos para acción disciplinaria. El código de vestimenta incluye, pero no se limita a: 1) Están prohibidas las camisas, sombreros, botones, prendedores u otra ropa con imágenes crudas, vulgares, obscenas, sexualmente sugerentes, drogas, marihuana, tabaco, alcohol o sus industrias. 2) No se pueden usar en la escuela camisas o blusas que revelen el estómago desnudo de una persona. Las blusas deben tener tiras de 1/2". La longitud de toda la vajilla inferior debe llegar a la punta de los dedos. Los agujeros en los pantalones también deben estar debajo de la punta de los dedos. 3) Se deben usar zapatos en todo momento. Traiga zapatos apropiados para educación física. 4) No se pueden usar sombreros, capuchas ni anteojos de sol sin receta en los edificios escolares (biblioteca, aulas, cafetería, gimnasio, oficina). 5) La ropa exterior debe cubrir toda la ropa interior en todo momento. 6) No se permiten pantalones de pijama ni pantuflas en la escuela. Agradecemos su ayuda con este asunto. Gracias

Baechtel Grove Parents and Guardians, We would like to remind our school community that we have a dress code at our school. We need your help as parents and guardians to help our students to follow the dress code in these last few days of the school year. Here is our dress code for reference: Students should take care that clothing is neat, clean, and appropriate for school attendance and activities. Students with inappropriate clothing will be given the opportunity to change or call home for new clothing. On the third offense they may be referred for disciplinary action. The dress code includes but is not limited to: 1) Shirts, hats, buttons, pins or other clothing with pictures of crude, vulgar, obscene, sexually suggestive, drugs, marijuana, tobacco, alcohol, or their industries are prohibited. 2) Shirts or tops that reveal a person's bare midriff may not be worn at school. Tops must have 1/2" straps. The length of all bottom ware must reach fingertips. Holes in pants must also be below the fingertips. 3) Shoes must be worn at all times. Bring appropriate shoes for PE. 4) Hats, hoods, and non-prescription sunglasses may not be worn in school buildings (library, classrooms, cafeteria, gym, office). 5) Outer-ware must cover all under garments at all times. 6) Pajama pants and slippers are not allowed at school. We appreciate your help with this matter. Thank you

Any student interested in cooking, gardening, ocean study, theater, art, or life skills can attend the BGMS Summer Program. The sessions are from 8:00 to 11:30 am, or 12:00 to 3:30 pm, or both from 8:00 to 3:30. They can attend for one week, two weeks, or three weeks, from June 13th to July 1st. Call the main office to make sure your student has signed up. Cualquier estudiante interesado en la cocina, la jardinería, el estudio del océano, el teatro, el arte o las habilidades para la vida puede asistir al programa de verano de BGMS. Las sesiones son de 8:00 a 11:30 am, o de 12:00 a 3:30 pm, o ambas de 8:00 a 3:30. Pueden asistir una semana, dos semanas, o tres semanas, del 13 de junio al 1 de julio. Llame a la oficina principal para asegurarse de que su estudiante se haya registrado.

Hello BGMS Parents, Guardians, and Caregivers, We are happy to welcome the fifth graders for a visit of the BGMS campus and classrooms, tomorrow morning. The final School Site Council meeting for this school year will take place virtually tomorrow, Monday beginning at 3:30 pm. Kids club will have their annual Kids Club Carnival on Tuesday from 4:00 to 6:00 pm. All students are welcomed. Thursday we are inviting all of our AVID families for an End of the Year Celebration, with a taco bar, in the cafeteria, beginning at 5:30 pm. Every AVID student in all grade levels will receive certificates, and eighth graders will receive their graduating pin. Friday of this week is the last day of this trimester that make-up work can be turned in. All students should check for missing assignments in Aeries. Soccer plays Willits Charter School in their final game of the season on Thursday, beginning at 4:00. Softball plays their final two games with Gualala this week, at Gualala on Monday and at home on Wednesday, both beginning at 4:00 pm. Ms. Munguia Hola padres, tutores y cuidadores de BGMS, Nos complace dar la bienvenida a los alumnos de quinto grado para que visiten el campus y las aulas de BGMS mañana por la mañana. La reunión final del Consejo del sitio escolar para este año escolar se llevará a cabo virtualmente mañana lunes a partir de las 3:30 p. m. Kids Club tendrá su Kids Club Carnival anual el martes de 4:00 a 6:00 pm. Todos los estudiantes son bienvenidos. El jueves invitamos a todas nuestras familias AVID a una celebración de fin de año, con una barra de tacos, en la cafetería a partir de las 5:30 p. m. Todos los estudiantes de AVID en todos los niveles de grado recibirán certificados y los estudiantes de octavo grado recibirán su prendedor de graduación. El viernes de esta semana es el último día de este trimestre en que se puede entregar el trabajo de recuperación. Todos los estudiantes deben verificar si faltan tareas en Aeries. Fútbol juega Willits Charter School en su último partido de la temporada el jueves, a partir de las 4:00. El softbol juega sus últimos dos juegos con Gualala esta semana, en Gualala el lunes y en casa el miércoles, ambos comenzando a las 4:00 pm. Sra. Munguía
Don't forget yearbooks are available to buy in the office for $25.00. We have limited quantities so get yours before they're gone. You can pay cash or check at the front office.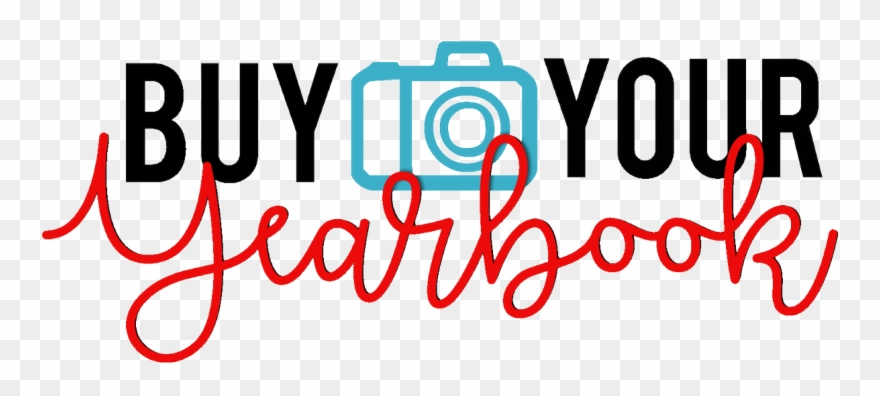 ELAC Meeting Agenda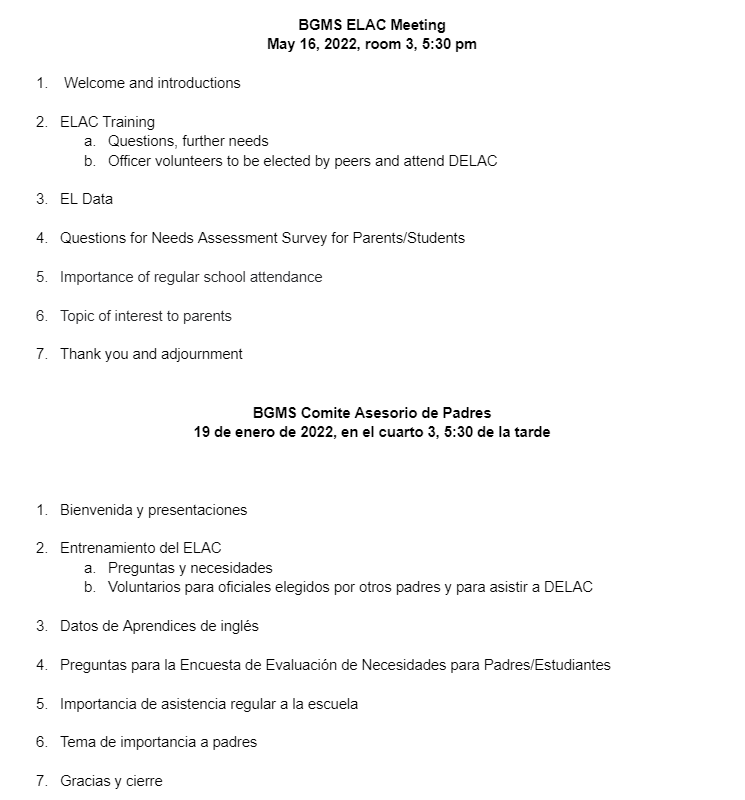 Hello BGMS Parents, Guardians, and Caregivers, We have completed the two weeks of state testing. Students put in good effort at taking their assessments. Thank you to everyone who helped with student attendance, and preparation for testing. If students were absent they will be involved in make-up testing, this week. This week, California salutes the important contributions of classified school employees during Classified School Employee Week. We are recruiting 5th grade students to apply to be in the AVID program next year. 8th grade AVID students will visit 5th grade classes on Monday and Tuesday. Monday beginning at 5:30 pm we will have an ELAC meeting. All parents of English Language Learners are encouraged to attend. This Wednesday we are also appreciating our Speech and Language Pathologists. In sports soccer plays Mendocino at home on Tuesday, Eagle Pea at Eagle Peak on Thursday, and ends their season playing Potter Valley at Potter Valley on Friday. Softball plays Eagle Peak at Eagle Peak on Monday, Potter Valley at Potter Valley on Tuesday, and Potter Valley at home on Friday. Track ends their season at the Pomolita Invitational meet at Ukiah High School on Wednesday. All games start at 4:00 pm. Eighth grade parents can expect a information about the end of the year activities for eighth graders, including the promotion ceremony. Ms. Munguia Hola padres, tutores y cuidadores de BGMS, Hemos completado las dos semanas de pruebas estatales. Los estudiantes hacen un buen esfuerzo para tomar sus evaluaciones. Gracias a todos los que ayudaron con la asistencia de los estudiantes y la preparación para las pruebas. Si los estudiantes estuvieron ausentes, participarán en las pruebas de recuperación esta semana. Esta semana, California saluda las importantes contribuciones de los empleados escolares clasificados durante la Semana del Empleado Escolar Clasificado. Estamos reclutando estudiantes de 5to grado para que soliciten estar en el programa AVID el próximo año. Los estudiantes de AVID de 8º grado visitarán las clases de 5º grado los lunes y martes. El lunes a partir de las 5:30 pm tendremos una reunión de ELAC. Se anima a todos los padres de estudiantes del idioma inglés a asistir. Este miércoles también estamos apreciando a nuestros patólogos del habla y lenguaje.. En deportes, el fútbol juega en Mendocino en casa el martes, Eagle Peak en Eagle Peak el jueves y termina su temporada jugando Potter Valley en Potter Valley el viernes. Softball juega Eagle Peak en Eagle Peak el lunes, Potter Valley en Potter Valley el martes y Potter Valley en casa el viernes. La pista termina su temporada en el encuentro Pomolita Invitational en Ukiah High School el miércoles. Todos los juegos comienzan a las 4:00 pm. Los padres de octavo grado pueden esperar información sobre las actividades de fin de año para los estudiantes de octavo grado, incluida la ceremonia de promoción. Sra. Munguía

BGMS Parents, Guardians, and Caregivers, Thank you for your supporting our first state testing week. As a whole, students have put good effort into completing their tests during the first week of testing. This is our second and final week of state testing. Please encourage your student to continue to focus and show what they know this week. Tomorrow, Monday, the BGMS School Site Council will meet for the last meeting of this year. All parents are welcome, please call the office for the Zoom link. In sports, Soccer plays Pomolita at Pomolita on Tuesday, Laytonville at Laytonville on Wednesday, and Eagle Peak at home on Thursday. Softball plays Fort Bragg at home on Monday, and Cloverdale at Cloverdale on Wednesday, and Laytonville at Laytonville on Thursday. On Wednesday the track team will participate in the Eagle Peak invitational meet at Ukiah High School. All the games begin at 4:00. Seventh grade field trip information went home on Friday, ask them to share this with you. Ms. Munguia Padres, tutores y cuidadores de BGMS, Gracias por apoyar nuestra primera semana de pruebas estatales. En general, los estudiantes se han esforzado mucho en completar sus exámenes durante la primera semana de exámenes. Esta es nuestra segunda y última semana de exámenes estatales. Anime a su estudiante a continuar enfocándose y mostrando lo que sabe esta semana. Mañana, lunes, el consejo del sitio escolar de BGMS se reunirá para la última reunión de este año. Todos los padres son bienvenidos, llame a la oficina para obtener el enlace de Zoom. En deportes, Soccer juega Pomolita en Pomolita el martes, Laytonville en Laytonville el miércoles y Eagle Peak en casa el jueves. Softball juega Fort Bragg en casa el lunes, y Cloverdale en Cloverdale el miércoles, y Laytonville en Laytonville el jueves. El miércoles, el equipo de pista participará en la reunión por invitación de Eagle Peak en la Escuela Secundaria Ukiah. Todos los juegos comienzan a las 4:00. La información de la excursión de séptimo grado se envió a casa el viernes, pídales que la compartan con usted. Sra. Munguía
We appreciate all of our teachers here at Baechtel Grove, not just today, but every day.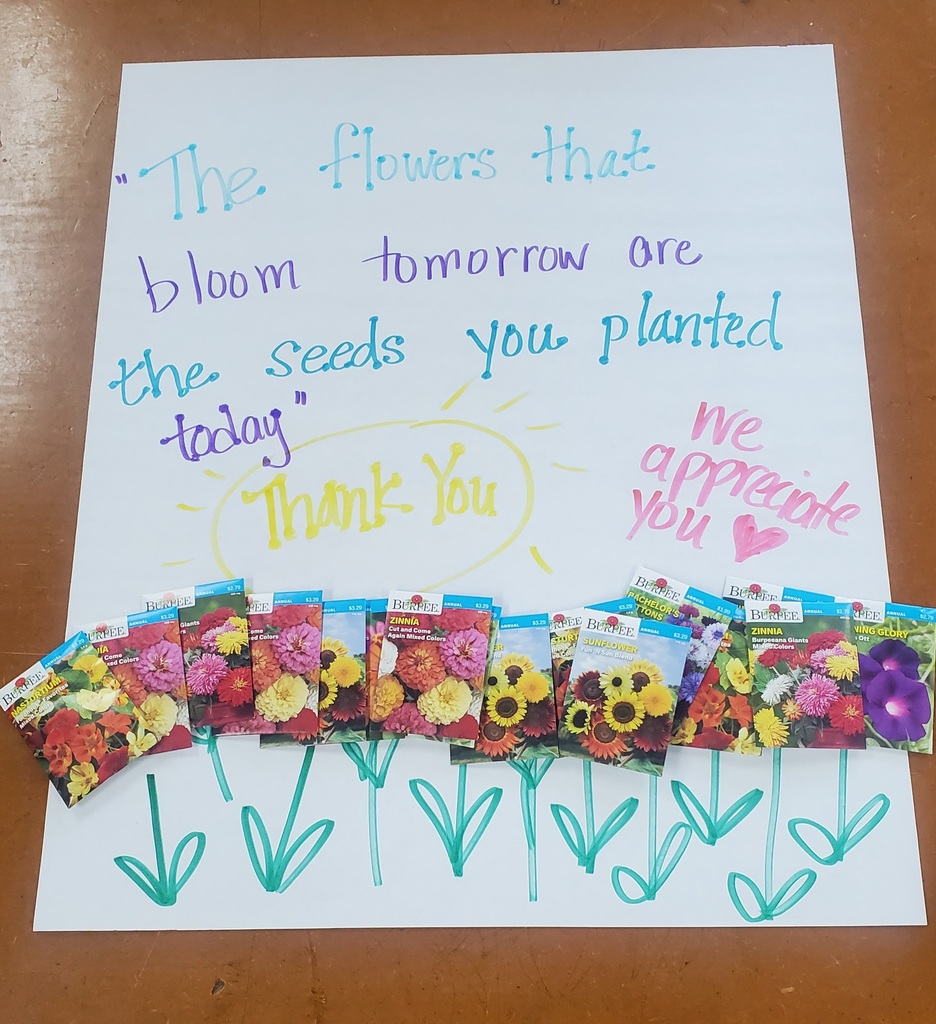 Don't forget lifetouch will be here tomorrow 5/5 to take 8th grade promotion pictures. There will be a link going home with your child today. We also have order forms in the office.